May Newsletter 2022
SBA Awards 2022
Congratulations to Mississippi SBDC client Nelson Haskin recipient of the SBA Minority Small Business Champion Award
(previous newsletter listed award as Veteran's SBA Champion. We apologize for the error)
Lisa Cochran pictured above at SBA Awards Ceremony. She is the owner of two salons – The Studio Aveda Salon located in Hattiesburg, MS and Studio R3 in Laurel, MS. To learn more about her salons visit thestudiobiz.com.
MEDC Economic Leaders Forum
We had a great time at the Mississippi Economic Development Council Leaders Forum at Delta State University on April 14th. Patrice Harris, North Mississippi SBDC Center Director, spoke on the entrepreneurship panel.
We love telling our client's stories ! Chris Jellema from 3-D Miniz has a unique product and a great story … ENJOY ! To learn more about his product, check out his website www.3dminiz.com
Upcoming Live Events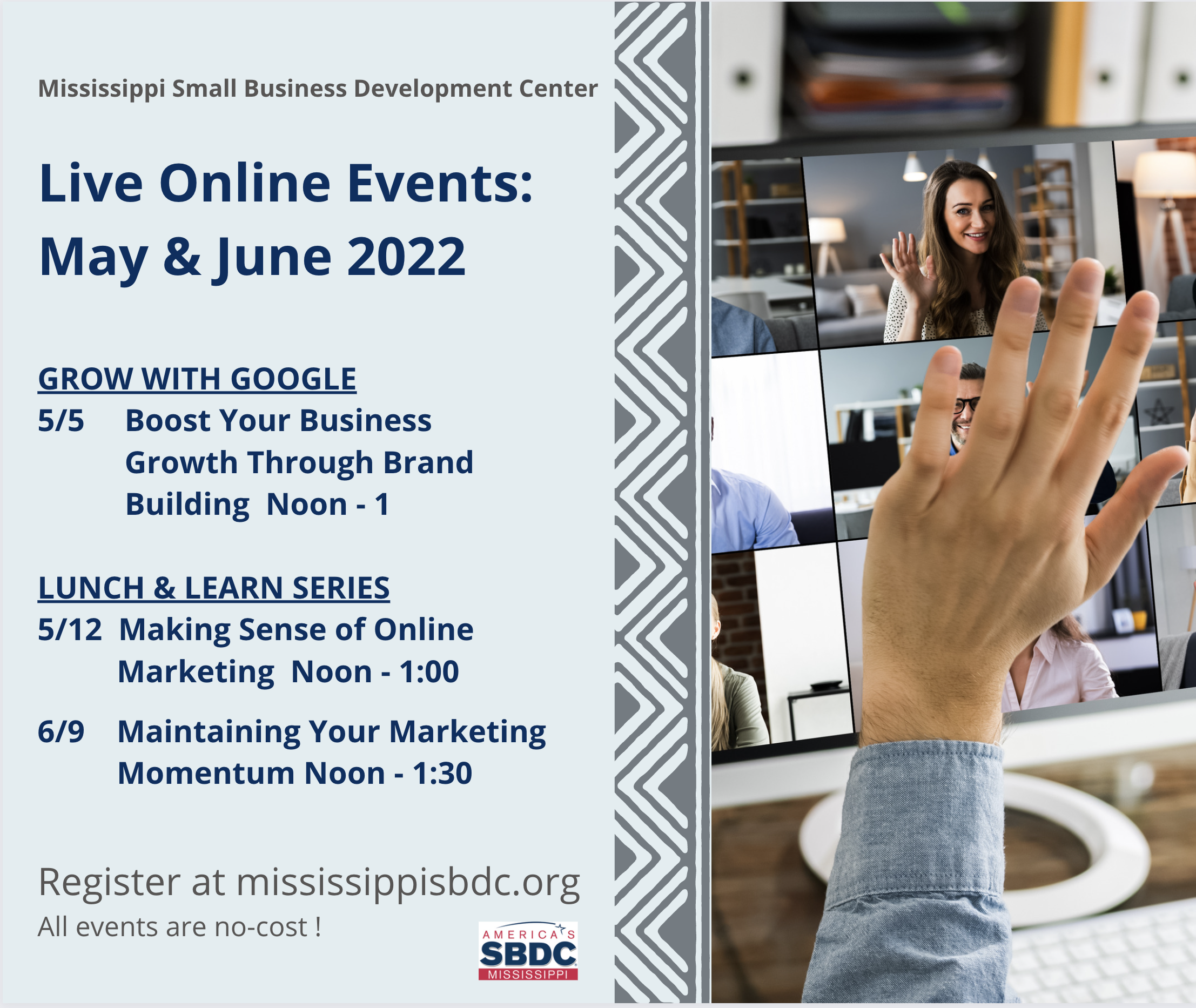 SBA Disaster Deadline for Flash Floods
is May 13, 2022
SBA Deadline Approaching in Mississippi for Working Capital Loans Due to Economic Losses From 2021 Excessive Rain and Flash Flooding.
The U.S. Small Business Administration (SBA) is reminding small businesses, small agricultural cooperatives, small businesses engaged in aquaculture, and most private nonprofit organizations that May 13 is the filing deadline for federal economic injury disaster loans in Mississippi due to excessive rain and flash flooding from April 10 through July 12, 2021.
Low-interest disaster loans are available in the counties of Adams, Amite, Copiah, Covington, Franklin, Jefferson, Jefferson Davis, Lamar, Lawrence, Lincoln, Marion, Pike, Simpson, Walthall and Wilkinson in Mississippi.
The loan amount can be up to $2 million with interest rates of 3 percent for small businesses and 2 percent for private nonprofit organizations, with terms up to 30 years.
Applicants may apply online using the Electronic Loan Application (ELA) via the SBA's secure website at DisasterLoanAssistance.sba.gov/ela/s/ and should apply under SBA declaration # 17181.
Need an experienced Business Counselor on your team?
Contact Us!

Equipping Business Owners with Opportunities for Connection, Education, Guidance
Mississippi SBDC
122 Jeanette Phillips Drive
University, Mississippi 38677